It's a week until December, yes I can get away with it …. can I??
Don't just buy someone loads of little bits of crap, avoid those £10 baskets full of cheap bath products. Instead spend more money on one special thing, is my take anyway.
Here is a selection of beautifully packaged, luxurious gifts in the 'beauty' category (more gift guides to follow……), and all cruelty free of course !
**********
Nailberry Mystique Red Nail Polish £14.50
When in doubt, go for a really posh nail polish. It's such a beautiful little packaged thing that many people may not spend £15 on. Nailberry's polishes are very luxuriously packaged, and they are free of lots of chemicals that some people despise in polish.
Herbivore Coco Rose Lip Conditioner   £20
An expensive lip balm may not be what some people justify spending their money on (fair enough if you do, though!), which is exactly why it would make a great Christmas present. Anyone can use lip balm, this might even be good for a teenager who is interested in beauty.
Pai Skincare Water Gift Set £22
Pai is about as universal as skincare gets, so I think anyone can use this on their face. This set includes their infamous Rosehip Oil as well as a very gentle cleanser. For skincare addicts, and anyone who you think would appreciate some TLC for their wintery face.
Zoeva VEGAN FACE SET £60
Most makeup users I know are in desperate need of some good quality brushes, or just some more. These will suit all animal lovers, and completely transform makeup application. This set looks the best to me, in terms of money and range of brushes. I think the small brush looks good for eye makeup too, and the set comes with a makeup pouch.
Charlotte Tilbury
LUXURY PALETTE OF POPS
  £39
Glitter should be exploited at this time of year, and this palette is a celebration of beautiful green glittery shades. CT does a tonne of other eye palettes with very well curated shade selections. The packaging is a dream, anyone you know who loves makeup would love anything from Tilbury.
Charlotte Tilbury LUXURY LIPSTICK WARDROBE £220
If you want to go all out, this is a (ridiculously) extensive lipstick set. I think I would wet myself if I received this – even just a single Charlotte Tilbury lipstick would be a dream gift.
Hourglass Ambient Lighting Edit Volume 4  £69
Even a single of their blushes (£35) would be fab. This decadent, beautifully packaged palette is full of their bestselling powders, including blushers, powders and highlighters. Hourglass do the best powders – any makeup enthusiast would love this.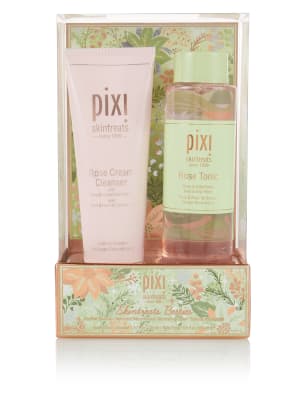 Pixi Skincare Besties Gift Set £28
Pixi do lots of other gift sets worth looking into, but I think this one looks good for all skin types. Easy to get from M&S. Great opportunity to try out different products, in a smaller size, without fully committing.
Brighton Beard Company Hawkhurst Beard Conditioning Gift Set £21
Both a bit of a gimmicky gift and an actual necessity for hairy faces out there. The shampoo is sulfate free and the moisturizer will make the face much more comfortable, I'm sure.
Diptique Do Son L'eau Eau de Parfum £115
I think it's unfair to associate perfume for Christmas as a desperate, last-minute, husband related failure. But it shouldn't be reduced to the sad image. A Diptique is properly grown up, and this one smells like the best kind of tuberose
[[[[On the same note, ( 😉 ) EDEN Perfumes is fab for replica perfumes. If you know someones favourite designer perfume, get it in this cruelty free, vegan version. Plus, A LOT cheaper.]]]]
Shay and Blue Blood Oranges Fragrance 30ml £30
I smelt this in M&S and honestly it's beautiful. It's not sickly sweet at all, just beautifully orangey and unisex. The larger size in £50. Would fully recommend. Available at John Lewis and Harvey Nichols too.
Steam Cream Petit Trianon Moisturiser 75ml £13
Steam Cream do a very universally beneficial moisturiser for hands, and faces, in a pot. They come in loads of designs, and make just a lovely compact gift.
Lilac Rose Plum Velvet Star Wash Bag £15
Christmas is the best excuse for a glitzy new makeup bag, I love the cheering colour and glimmery star. Looks gorgeous !
Becca Volcano Goddess Eyeshadow Palette  £38
This palette summarises why the festive season is just the best for beauty buying. Becca's limited edition eyeshadow palette just looks stunning. Plenty of cheering shimmery shades that would be great for Christmas parties. Beautiful packaging – just lovely !
Dislaimer: non spon, and all photos taken from websites linked. Main pic from Space NK x